Wetlands, Stream Restoration, Riparian Corridor
Wetland Mitigation Construction
Stream Restoration
Bioretention Basins
Riparian Corridor Revegetation
Cross Vane Structures
Hydraulic & Mechanical Dredging
SWPP Development & Permitting
Natural and Armored Channelization
Streambank Stabilization and Slip Repair
Splash Pool, Step Falls, Oxygen Saturation Structures
Fish and Wildlife Habitat Restoration
CESWI Certified Inspector
Dam Construction/Repair
Water Quality Doser Construction/Installation
RSL and Synthetic Basin Liners
Selective Species Clearing
Custom Designed and Fabricated "Wet Site" Equipment
Ohio Stream Restoration and Wetlands Construction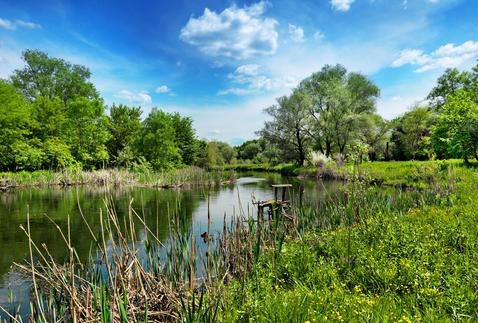 The importance of responsible management practices for our natural water ways, wetlands and broader area watersheds has become a focal point for almost every community in the Great Lakes Region.
Stream restoration and wetlands projects should not be viewed simply as Heavy Civil Construction or Earthwork.
Our natural waterways are the original "Bio-Cells". ​Construction work in these living environments demands one of the highest levels of contracting experience. Forty thousand pound machines in delicate surroundings can easily become tools of destruction.
King Environmental has the experience, knowledge, training and specialized operating protocols needed to perform Stream and Wetlands work responsibly.